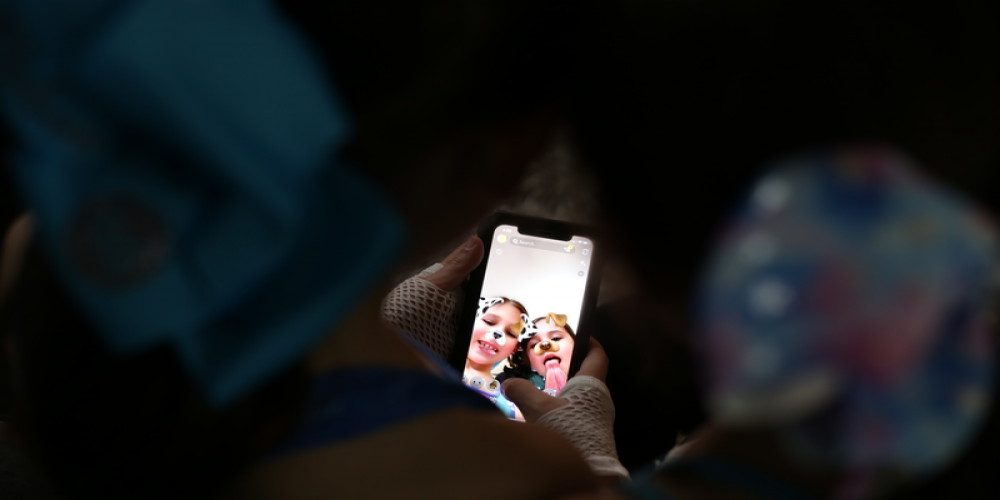 Snapchat is one of the most creative messaging apps. It has tens of millions of users from all over the world who post creative, funny photos and videos every day. No wonder filters and lenses are trendy here. We've picked the top items that blew up Snapchat recently.
1. Neon Horns

Red devil horns have long been a classic. The neon modification allows you to change the shade. Now the horns can be combined with any clothing and background to fit you best.
2. Cartoon 3D Style
With this effect, anyone can turn into a Disney hero. It suits every face type and creates a hand-animated vibe that makes everybody look spectacular.
3. Scary Mask
Photos using this filter blew up not only Snapchat but also other social networks. You can turn the lower part of your face into a grinning monster's mouth or hide your eyes behind a golden mask, referring to the musical "The Phantom of the Opera."
4. Lips Freckles
This mask is the exact opposite of the previous one. It is ideal for those who want to give loved ones a little love. Bright emojis with lip freckles on the cheeks and neck cheer up everyone around.
5. Vogue Noir
Probably many of us dreamed of being on the cover of a popular magazine, like our favorite show business stars. This filter provides such an opportunity. It turns your photos into a stylish black and white Vogue cover from the 1980s.
6. Polaroid Frame
Today, instant photos are available to everyone, thanks to the digital cameras of smartphones. However, you should admit, it's nice to stylize your selfie like Polaroid pictures from the 90s. It is incredibly cool that there is a date at the bottom of an image as if written by hand.
7. Dancing Turkey
This filter will definitely lift everyone's spirits. A man in a turkey costume dancing to a stupid tune is hilarious. So if you're having a bad day, try to entertain yourself with this virtual costume.
8. Distortion

It is a very stylish effect often used for creative videos and photoshoots. It distorts the image at the corners of the screen and turns it into a blurry picture that refers to the popular video clips of the 90s.
9. Reverse Video
It's one of the most popular Snapchat default filters. Many life situations look spectacular in the video in reverse rewind. It is an excellent option for creative clips. Have fun and show your creativity to use it to the fullest.
10. Fire Sunglasses
Show everybody that you are on fire! It's great for post-workout posts at the gym or motivational videos. The main thing is that the "glasses" fit you.
11. Pecan
If you have pale skin and want to look a little tanned in the photo, Pecan is a great solution. You can adjust the amount of tan to look natural.
12. The Elders
The perfect mask for Halloween! The image doesn't look intimidating at first. But open your mouth, and your face will turn into a creepy nun that looks like a famous horror movie character.
13. Altitude Overlay
It is an option for curious people. When taking a photo or video, swipe the screen, and the filter will show you how high above sea level you are.
14. Time/Date Overlay
Share with other users the date and time the picture or video was made. It is especially suitable for those who come up with viral content and want everyone to know who posted it first.
15. VSCO Filters
This one offers various options for image editing. Instead of adding funny faces, they cover up imperfections in photos and enhance lighting, makeup, and more. Follow the instructions and get a highly artistic picture.
New awesome Snapchat masks appear literally every day. It is why we love this platform. Which of these filters have you already tried? Share your favorite options with us in the comments below.